I watched a series sometime back and the theme of this series was war, everything was just bloody and in chaos. There was no particular episode that passed without a handful of people dying. Personally, I didn't like the series but the person I found watching was actually enjoying the whole thing.
He was not finding a hard time watching and going onto the next episode. He loved it. On the other hand, I was just closing my eyes in most parts of the movie. I wondered why people were killing each other, why won't they live in peace and harmony. Why would the writer put a lot of bloody scenes in the film? It just didn't make sense to me. 
The film, Woman King got me in every way possible. I got to see women in combat. Women fighting with precision to protect that which mattered to them. They fought to the tooth to ensure that their community and village is safe.
Women are wired towards loving peace and that's why we are more inclined to watching soap operas and the like ( I mean me). We like to live in the fantasy that everything is perfectly fine and love is in the air.
We are tuned to home making and nurturing people and at least trying to create a little heaven on earth. This fantasy however is supposed to go as far as that soap opera goes, otherwise, we shouldn't live oblivious of the fact that we are in a real world with a real devil who is working full time.
Military recruitment might try to make your qualifications for a woman lower compared to a man's but not so the devil. He doesn't bring a lesser temptation just because you're a woman -his weapons are the same and the battlefield is also the same as that of a man.
1 Peter 5:8 says, "Be sober, be vigilant; because your adversary the devil walks about like a roaring lion, seeking whom he may devour". Apostle Peter doesn't specify which gender should be alert and vigilant, as long as you are a Christian, sister you are a soldier.
Someone might ask "what is it we are fighting? ". And I will reply with the book of Ephesians 6:12
"For we do not wrestle against flesh and blood, but against principalities, against powers, against the rulers of the darkness of this age, against spiritual hosts of wickedness in the heavenly places. "
What a woman King fights
We are fighting unseen things, deep spiritual things that try to come into the world and showcase themselves as just harmless things. Women are under attack by the enemy because he sees them as gullible, the same way he saw Eve in the garden. He showed Eve that the Sovereign Lord was withholding something from her and Adam.
The woman of today wants to reap where she didn't sow, she wants immediate results, she wants to be in control. And honestly, she doesn't want to submit. These are seeds that the enemy is planting daily in society.
The enemy has used this to turn her against the man, the very person that has been given the responsibility to protect her. The man of today is suspicious of the woman and the woman of today is suspicious of the man. She is no longer vulnerable as the Lord intended her to be.
The beauty that comes from her being vulnerable to her Lord and the man has been taken away from her by the lie of the enemy that she has to be in control of things for them to turn out in her advantage. By the fact that she was taken advantage of by the enemy in the garden, she has found it difficult to just be at rest and let things be done for her.
I Daresay that this war goes beyond what the physical eyes can see. It goes beyond you being hurt by your father, or being domestically abused by your husband, it goes far beyond you being comfortable with being a single mother and not being in need of a man in your life.
They might coat it with names like feminism and independence but we ought to know that it is a lie from hell. The devil knows clearly that the best mirror of Christ and His Bride, the Church is the union of man and woman, in holy matrimony and so, what better way to get back at God than attack what He has called holy and good and blessed.
The other war we must fight is that of self-loath. This comes about after so many years of being told you're not good enough, your body size is not good enough, neither is your skin color. For others, it goes further to the mistakes we did in the past; having that child outside wedlock, having an abortion, being molested as a child, the list goes on and on.
The devil that whispered to Eve, is still whispering to her daughters today. Do not give him room to speak to you words of defeat, you don't defeat him in any other way but with the sword of the spirit which is the word of God. Accept the forgiveness of the Lord and join forces with God to fight the devil and his lies.
There is another demon from hell that the enemy uses, and that demon is called depression, most of us allow it to eat us up especially when we are in that time of the month, but there are some extremes that are from the pits of hell and it's high time you fought depression. It is not your portion no matter the time of the month you're in.
Proverbs 12:25 says "Anxiety in the heart of man causes depression, but a good word makes it glad" and what other good word surpasses the bible. Speak life to yourself, your marriage, your family, your children, your womb, and your heart will be glad.
You have been taught to Fight
The one hundred and forty-fourth psalm really charges me up, it says "..blessed be the Lord my Rock, who trains my hands for war and my fingers for battle." God cannot take time to teach you war if there's no enemy to fight.
This enemy is not your husband who goes on to bet with your children 's school fees, or the boyfriend that leaves you after you tell him that you're expectant, or your father that never fathered you. This enemy is the devil. He is only defeated on our knees. Do not fight Peninah because of your barrenness, she doesn't have the ability to give you a child but God can. Get on your knees and attack where it counts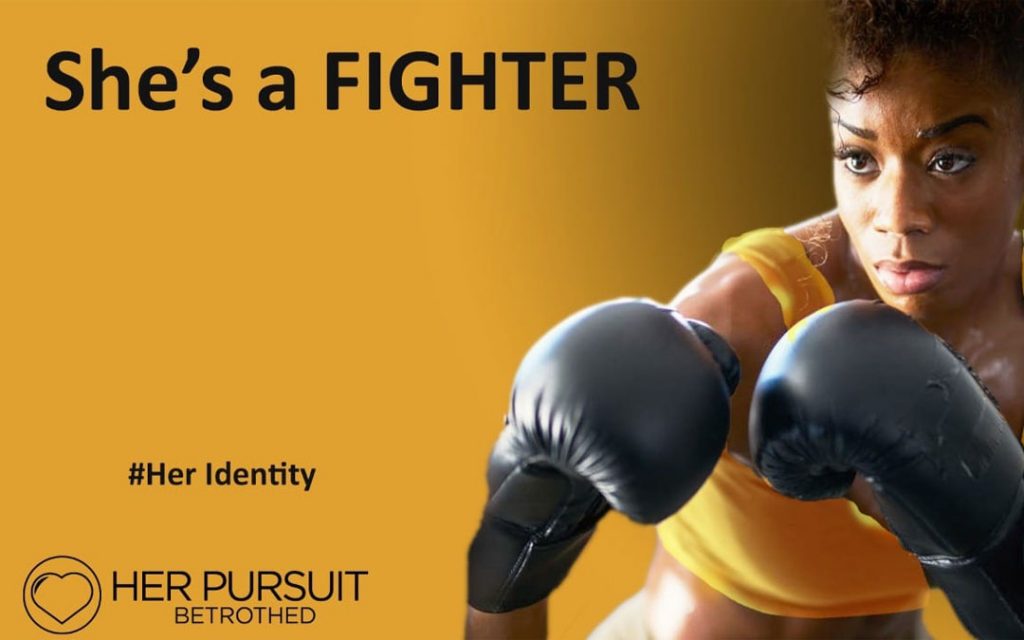 The bible says in Proverbs 14:1 "The wise woman builds her house, but the foolish pulls it down with her hands". He doesn't say a married woman, he says a woman. Every woman, single or married has some assignment that God has given her and with wisdom, she'll accomplish it
. A woman in pursuit knows when her house is under attack, and she doesn't shrink back but she attacks, on her knees. Like the horses charge towards the battlefield so is a woman who is confident that he who is in her is the Mighty Man of war, and she has His DNA, too. She may be having her crown of Royalty on her head but she also has her attire for war and sharpens her tools well as she awaits the enemy. A wise woman prepares ahead and is not found unprepared like the five foolish virgins.
Like Deborah, she stands up and proclaims the word of the Lord, unafraid of what people will say because she is confident that He who promised is faithful. A woman in pursuit of Christ is aware when the Lord wants to use her and like Jael in the book of Judges, she is not afraid of killing the enemy Sisera because she knows that spiritually she has the victory already.
Like Abigael, she is willing to stand in the gap for her family so that the wrath of the King does not destroy her home, she fights with all the tools at her disposal. Like Rahab, she will side with the people of God with no fear of death and save her family. Like Esther, she will stand up and fight the good fight because she knows that the heavens are backing her up and that her assignment is divine.
This fight sometimes will mean you giving up pleasures and rights like Mary so as to see the coming of the Messiah. It will mean being vulnerable to Him and in total surrender responding like she did "be it unto me, according to your word. " There's no greater fight like this, of letting go and letting God. Sometimes it will be a matter of being still and knowing that He is God.
So, woman, it's high time you put on the whole armor of God, stand and fight. Be also in tune with the Lord to know which weapons to use. Because this means war!!